Welcome to the Truman State Fraternity and Sorority Life Community!
The Fraternity and Sorority Life (FSL) community at Truman State University dates back to 1914 and now fosters 21 fraternities and sororities organizations on campus. FSL at Truman State values leadership, scholarship, unity, and growth to being the best versions of ourselves. Truman has a One Greek mentality as we value each other in order to be successful role-models in the community. The FSL community represents 18% of women and 22% of men in undergraduate programs at Truman State University. CLICK HERE FOR MORE INFORMATION ON 2023 RECRUITMENT
Our Mission
Fraternity and Sorority Life at Truman State University has existed since 1914. Since the founding of our first chapters, we have strived to seek out members with a values-driven mindset that are willing to empower students to be leaders in their communities. Our chapters provide outlets for individual development and support each members' personal and professional growth. We acknowledge the foundations on which our chapters began and will continue to advance our community by practicing integrity through a value base of leadership, scholarship, unity, and growth.
Our Vision
As a fraternity and sorority community, we strive to be seen as a collective of hardworking, forward-thinking leaders where any Truman student can find a place to foster connections and contribute positively to our community and beyond.
Our Values
Growth – We are conscious of the size and makeup of our community. We look to support the livelihood of existing and potential new chapters. Opportunities are provided for personal and professional development in order to attract new members while fostering the growth of current members in every facet.
Leadership – Using our voices, individually and collectively, we set a positive example for others. Alongside our collegiate and local city communities, our members work to pursue opportunities for impactful change. We are cognizant of how our actions, decisions, and behaviors are viewed by others. Reflecting on those views, we continuously push our standards forward through initiative and innovation.
Scholarship – Academics are a top priority for every chapter and its members. We advocate for members to achieve their full academic potential beyond the pursuit of grades, but for the sake of learning. Therefore, we serve as an academic example to the campus and local community.
Unity – As a community, we prioritize inclusion within our chapters and their operations. By being intentional in building connections within and outside our community, support is provided to fellow students regardless of affiliation. We stay attuned to issues that impact our community, and recognize roles we have for potential action. Ultimately, we demonstrate that together our fraternity and sorority community is a powerful force – as a collective unit, we achieve more.
Location and Hours
The Fraternity and Sorority Life Student Staff works out of Union & Involvement Services, which is located in the Student Union Building, on the main level, Room 2000. The office is open Monday through Friday from 8:00 am – 5:00 pm.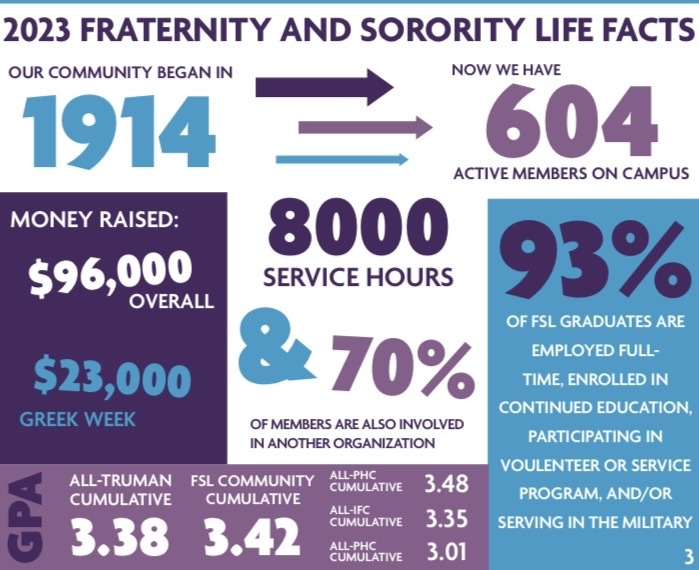 Contact us via Social Media