Phi Kappa Tau: Nathan Winter
Nathan Winter is a member of Phi Kappa Tau who graduated in 2020. He is currently a Wildland Firefighter for Grayback Forestry based out of Oregon. He wanted to pursue fire to be more physically active in the outdoors and travel the country while making an impact. We see wildfires as very destructive (and they are), but in a controlled situation like a prescribed burn we can mimic pre-settlement ecology where fire used to occur every few years. So he is planning on doing a few fire seasons to step into a career dealing with controlled burns and habitat rehabilitation.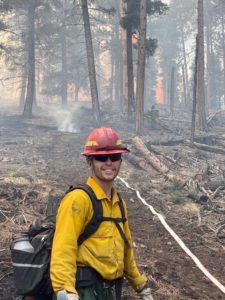 "Something I miss a lot from college is living with the guys and the 24/7 shenanigans that would occur. Just the little things like coming home to a nerf war or showing up to a slip n slide on the front lawn. Made life interesting turned bad days into good ones!"
Alpha Gamma Delta: Becca Landwehr
Becca Landwehr, a Fall 2005 member of AGD held many positions while in Greek Life including AGD's social chair and risk manager. Additionally, she was the activities coordinator for homecoming and Greek Week. For her, Greek Week was by far the most engaging week of the year. While at Truman, she recommends that all Greek members diversify their world view and organization. She recommends students to look outside of their personal Greek bubble and use it for inspiration to improve and better their organization.
Landwehr's favorite part of Truman Greek Life is that it allowed her to network socially and make a variety of connections. She learned how to navigate relationships, which is one the most important parts of her role as an interior designer. Learning about people and relationships has helped her be able to empathize and relate to her clients. She likes to compare her work community to the Truman Greek Community because everyone has their own organizations and groups but they also all work together as a whole to drive and deliver.
Alpha Sigma Alpha: Leah Anderson-Little
Leah Anderson-Little is a member of Alpha Sigma Alpha who graduated from Truman in 2021 and will complete her Master of Arts in Education soon. Throughout her time at Truman, Lead involved herself both with Alpha Sigma Alpha and the Education Department. After undergraduate, Leah continued her education here at Truman State University in the Master of Arts in Education program to be a teacher. Additionally, she has accepted a Fullbright Scholarship and will spend next school year teaching English in Galicia, Spain.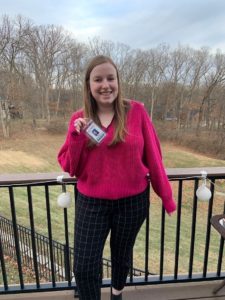 "My favorite memory from Alpha was living in a house with my 7 best friends."
Phi Beta Sigma, Inc.: Shawn Glispie
Shawn Glispie, a member of Phi Beta Sigma Fraternity, Inc. went through recruitment in the spring of 2010. While in Greek Life, Glispie held a position as NPHC Greek Life Intern. Overall, his favorite part of Truman Greek Life was the opportunities it gave him to network with other people throughout Truman. Helping with the step portion of lip sync and the canned food drive service event are two events that stood out to Glispie while at Truman.
Glispie was a Justice Systems major while at Truman. Currently, he is continuing to give back to the community as a high school mathematics teacher. At this job, he enjoys being able to prepare the next generation of students for higher education through the leadership and communication skills he learned while at Truman.