Fraternity and Sorority Life Student Team
Fraternity and Sorority Life Team 2023-2024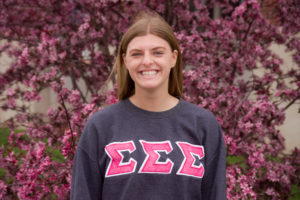 Lucy O'Connor – FSL Team Lead
FSL Organization: Sigma Sigma Sigma
Lucy O'Connor is a senior Exercise Science major on the Pre-Occupational Therapy track with a minor in Disability Studies and Psychology. She is a member of Sigma Sigma Sigma, a member of the  health science professional fraternity Phi Epsilon Kappa, President of the Panhellenic council, and also is a supervisor at the Student Recreation Center. After college, Lucy plans to attend a doctoral program for occupational therapy in hopes of working in a pediatric setting. A fun fact about Lucy is that she got to hike across Italy this past summer. In her free time Lucy enjoys going on walks with her dog and playing intramural sorts with her friends. Lucy's favorite FSL memory is getting to reconnect with all of her friends from various organizations during Greek reunion!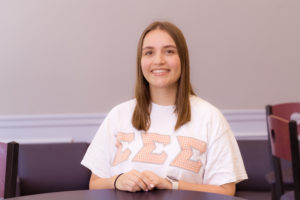 Mollie Fogarty – FSL Team Member
FSL Organization: Sigma Sigma Sigma
Mollie is a Junior Nursing Major and a member of Sigma Sigma Sigma, where she serves as Panhellenic Delegate (Housing Coordinator). She is also a member of the Nursing Student Association and a Student Ambassador! After college, she plans to work in a hospital. She hopes to become a travel nurse after gaining a few years of experience and would get to work all over the country. A fun fact about her is that she is an elite yelper and she was born in Indiana. In her free time, she enjoys watching movies, hanging out with friends, and sunrises/sunsets at 1000 Hills State Park. Mollie's favorite FSL memory is participating and winning Greek Week her freshman year. She also loves bid day and celebrating everyone finding their homes! Mollie is thankful for everything that the Fraternity and Sorority Life community has given her, and the countless opportunities to grow!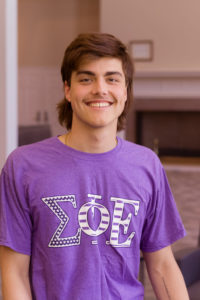 Carter Mahlstadt – FSL Team Member
FSL Organization: Sigma Phi Epsilon
Carter is a sophomore nursing major and a member of sigma phi epsilon. After college, Carter hopes to work in an ICU or surgery unit before attending a masters program to become a nurse anesthetist. Carter enjoys playing intramurals and watching sports! A fun fact is that he has three adopted siblings and his family does a lot of non profit work in Ghana, Africa! Carters favorite FSL memory is getting to become a fraternity brother with his older sibling.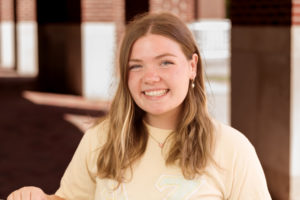 Morgan Cowen – Greek Week Coordinator
FSL Organization: Delta Zeta
Morgan Cowen is a senior Psychology major at Truman State University! She is a member of Delta Zeta, Treasurer of the Panhellenic Council, a member of Order of Omega, and a Student Ambassador. Upon graduation, Morgan plans to further her education in pursuing a degree in School Psychology. Morgan had such a good time serving as Philanthropy Coordinator during Greek Week 2023, that she just had to come back to serve as overall Greek Week Coordinator for 2024! Morgan's favorite part about Greek Week is seeing all of the chapter's come together, to celebrate the values of FSL and give back to the community!